Western Sydney MRC was privileged to have partnered with the City of Sydney to organise a Multicultural Futsal Tournament in celebration of Refugee Week 2018
The City of Sydney holds a men's futsal tournament every year however chose to organise an event specifically for communities with an asylum seeker and refugee background. Because of this, Western Sydney MRC made a large contribution to the event which saw more than eighty participants take part. This included two teams of players, club officials, volunteers and many families engaging with the program from a vast range of communities.
Western Sydney MRC sponsored two teams in participating in the tournament. And were very excited to see our teams place first and second in their respective divisions! To celebrate this, we organised a celebration at our Liverpool office on 2nd July, during which our community team players and their coach, Mr Aouse Amoor from the Mandaean FC club executive, presented the trophy they won to Western Sydney MRC, in recognition and appreciation of the support that they received.
The event was a great celebration of culture and diversity that allowed our incredible community to come together to connect with one another and showcase their skills…"

Ballina Gee, Socio-Economic Development Manager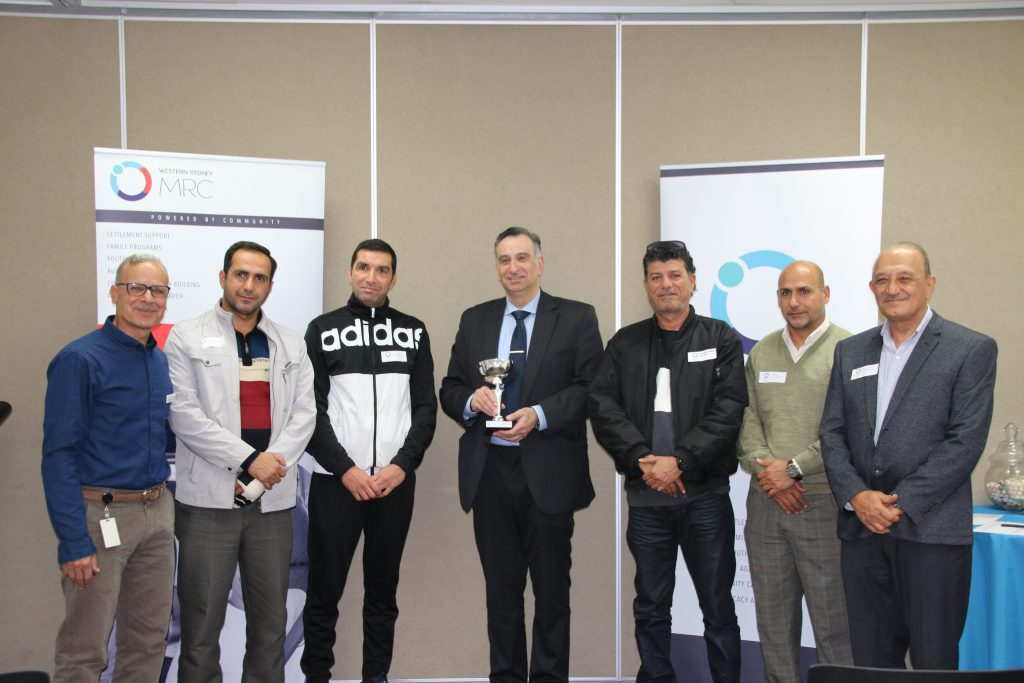 Sport is one of the best ways to break barriers of social inclusion and promote inclusion…"

Rassem Asmar, Project Manager
Western Sydney MRC congratulates our team players Bihram Alkhamisi, Haiman Laibi, John Abdelmalak, Josh, Kireem Namaa, Moataz Jawar, Murad Alzohairy, Rafat Alzuheiri, Reza Husaini, Saad Alzuhiri, Salam Mounis, Sam Alkhamisi, Yahya Saheen and Zakria Amoor on their wonderful performance throughout the tournament!
A big thank you to our other partners, STARTTS, Football Federation Australia, Western Sydney Wanderers, SSI, Football NSW and Aldi Mini Roos with whom the event was organised, as well as sports photographer MojiPiks for the donation of their time and expertise.