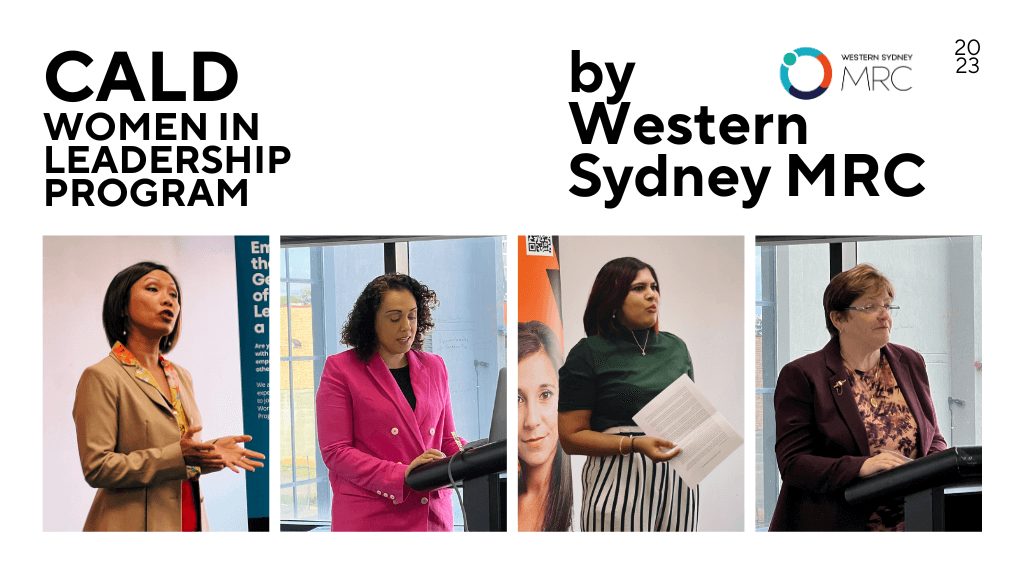 Introduction
Last weekend, a remarkable Women in Leadership Program took place, bringing together CALD (Culturally and Linguistically Diverse) women from various backgrounds. This self-funded training session aimed to inspire, educate, and empower these women to overcome challenges and lead with confidence. Among the esteemed speakers were Dai Le MP, Anne Stanley MP, and Charishma Kaliyanda MP, who shared their invaluable insights and experiences. This blog post highlights the key takeaways from their speeches and their impact on the participants.
The CALD Women in Leadership training session was further enriched by the presence of dedicated staff and board members who actively participated in the event. Western Sydney MRC Board Chair, Rola Hijwel and Anita Kumar, both esteemed board directors, contributed their valuable insights and expertise to the training session. Their presence demonstrated their unwavering commitment to empowering women in leadership roles and fostering diversity and inclusion, and are keen mentors for the next stage of program. The collective contribution of the staff and board attendees added immense value to the event, creating a supportive and empowering environment for all participants.
Dai Le MP: Embracing Failure and Leading with Conviction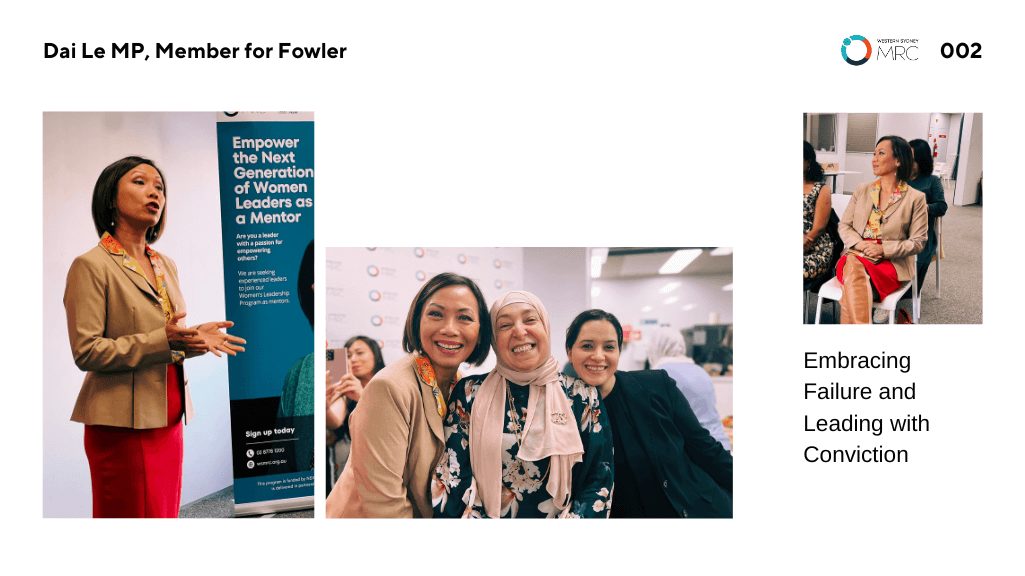 Drawing upon her own lived experience as a refugee, Dai stressed the transformative nature of failure and the invaluable lessons it offers. She encouraged attendees to confront their fears head-on and walk alongside them, emphasizing that growth and progress often emerge from the discomfort of facing challenges.
Dai highlighted the importance of community engagement and independent thinking in effective leadership. She spoke passionately about the freedom to express oneself and encouraged participants to embrace their unique perspectives and voices. Dai emphasized that leadership extends beyond personal ambition and requires active participation in shaping the narratives and conversations that shape our communities.
Dai Le's insightful speech left a lasting impression on attendees, reminding them of the importance of embracing failure, facing fears, and leading with conviction. Her lived experiences and remarkable journey exemplified the transformative power of determination and resilience.
Charishma Kaliyanda MP: Being Part of the Solution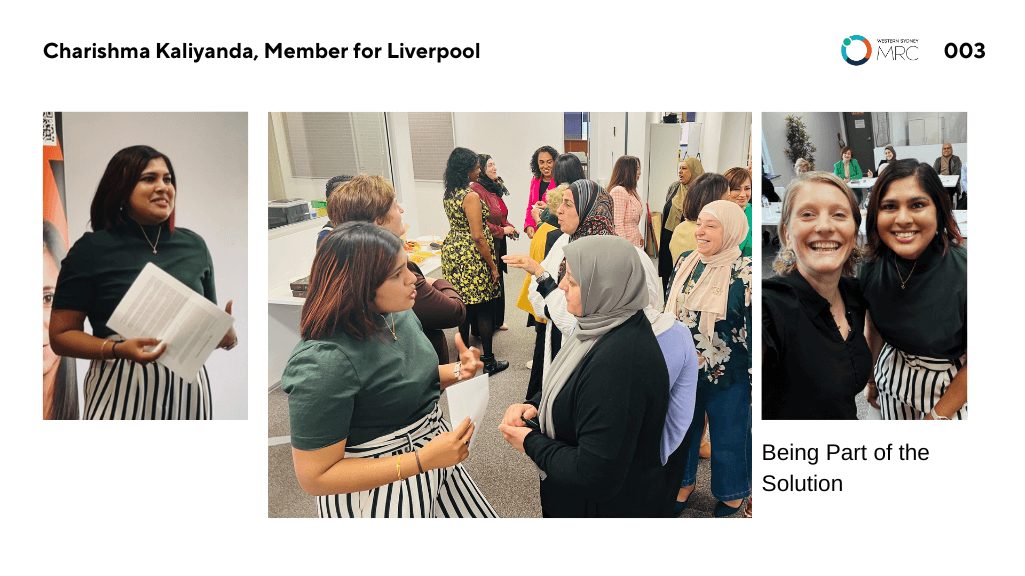 Charishma Kaliyanda, a passionate advocate, spoke about her university experience and the reduction of courses that conflicted with her values. She emphasised that merely identifying problems is not enough; taking action and being part of the solution is essential.
Charishma stressed the value of collectivism and modelling alternative approaches. She highlighted the importance of local engagement and mentioned Paul Lynch, who exemplified the power of redistribution. In her speech, she encouraged participants to seek out mentors with diverse experiences, recognizing the value of learning from various perspectives.
Charishma's insights and call to action left attendees inspired and motivated to become catalysts for change in their own communities and beyond.
Anne Stanley MP: Empowered Leadership Through Engagement and Authenticity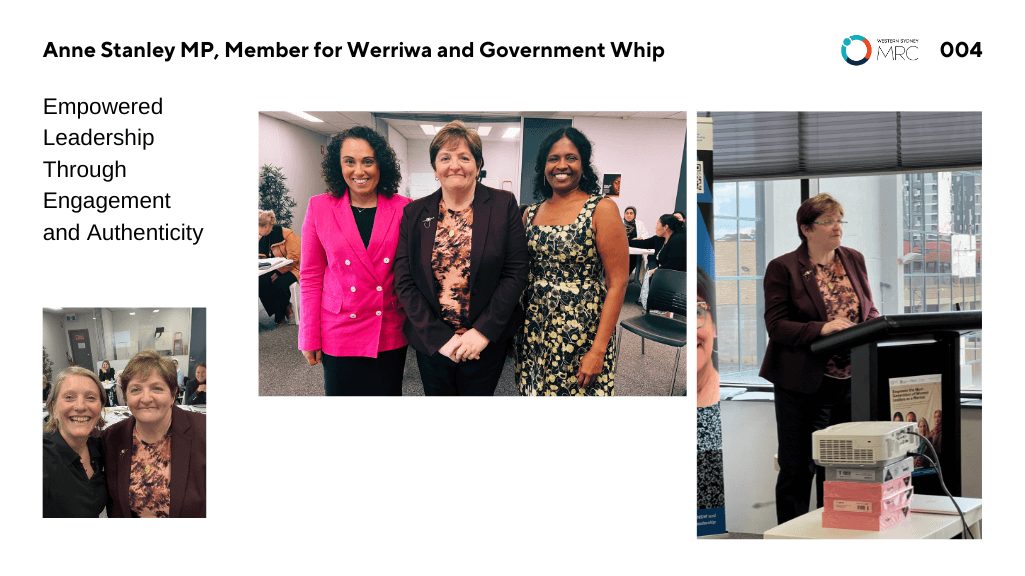 Her speech highlighted her deep engagement in politics and commitment to making a difference. Anne's leadership style is marked by a family-first approach, assertiveness, and directness, which she developed through her experiences.
Anne emphasized the importance of authenticity and staying true to oneself throughout her speech. She encouraged participants not to downplay their gut responses, reminding them that these responses are shaped by their unique experiences, insights, and knowledge. She acknowledged that what may be right for one person might not necessarily be the same for another, emphasizing the significance of finding the right advisors and support system tailored to each individual's needs.
Anne also provided valuable advice and guidance on dealing with challenging individuals. Drawing from her own experiences, she shared strategies for maintaining composure and effectively navigating difficult situations. Her insights were a source of inspiration, empowering attendees to handle challenges confidently and assertively.
Dr. Rawaa Al-Ayoub – Aspire Leadership Training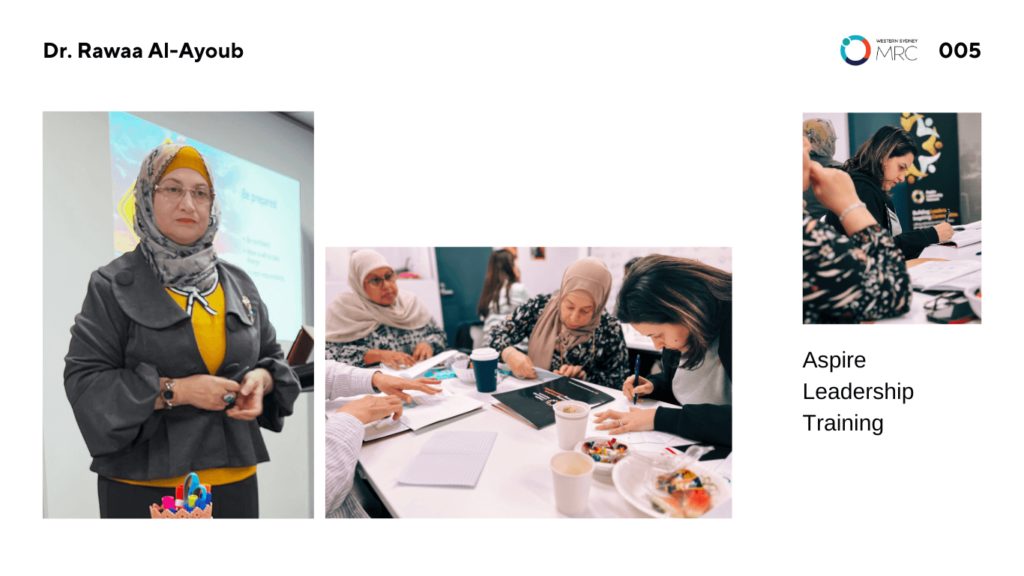 Experience transformative leadership training with Dr. Rawaa Al-Ayoubi. She empowered women to develop leadership skills and make effective decisions through interactive workshops and insightful discussions. One such tool was the SWOT analysis, a strategic framework that allowed participants to assess their strengths, weaknesses, opportunities, and threats. Through this exercise, attendees gained valuable insights into their unique skill sets and areas for development, enabling them to make more informed decisions and leverage their strengths effectively. Dr. Al-Ayoubi's expert guidance unlocks new horizons of success. Dr. Al-Ayoubi emphasized the importance of harnessing personal strengths and leveraging them in leadership roles, highlighting that true success comes from aligning one's strengths with their leadership approach.
Rachel Haywood: Communication Strategies for Effective Leadership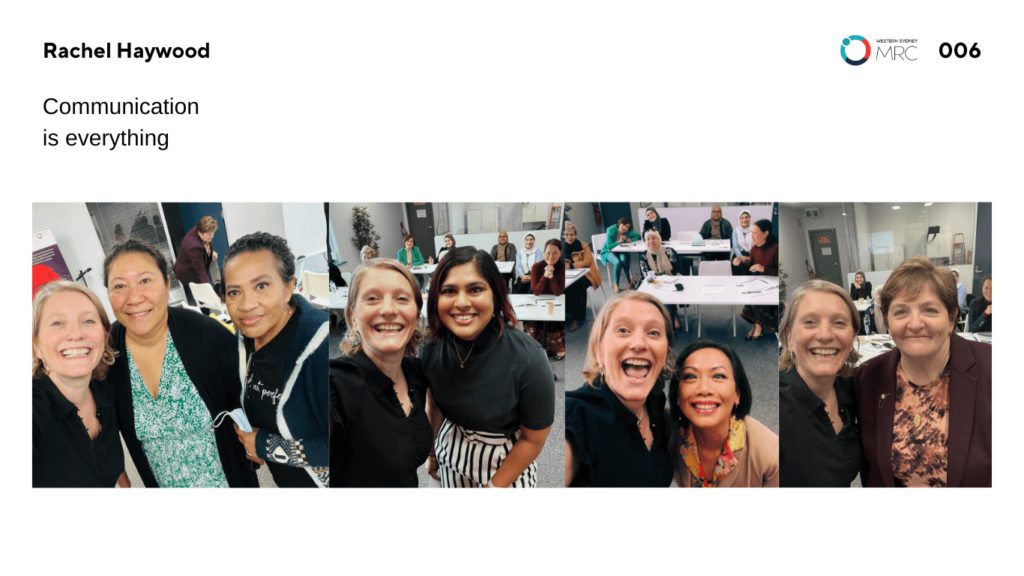 Rachel, the program's marketing manager, facilitated communication sessions and provided valuable resources for participants. She created checklists for effective communication, including key messaging and active listening techniques. Rachel also emphasized understanding participants' communication styles and how they can influence stakeholder engagement. Her expertise and guidance greatly enhanced the participants' communication skills, enabling them to connect more effectively with their communities.
Expressing Gratitude
We want to express our heartfelt gratitude to Dai Le MP, Anne Stanley MP, and Charishma Kaliyanda MP for their invaluable presence and participation. Their time, inspiration, expertise, and insight profoundly impacted the event and left all attendees feeling energised and inspired to create change. The organisers also thanked Rola Hijwel, Anita Kumar, Dr. Rawaa Al-Ayoubi and Rachel Haywood for their contributions, as well as Multicultural NSW for their continuous support and investment in empowering women in leadership.
Conclusion
The CALD Women in Leadership Saturday training session was an exceptional event that provided a platform for empowerment, inspiration, and growth. Through the speeches of Dai Le, Anne Stanley, and Charishma Kaliyanda, participants learned the importance of embracing failure, being part of the solution, and leading with conviction. Rachel's communication expertise further equipped them with the necessary tools to engage with their communities effectively. The impact of this event will resonate with the participants as they continue to make a difference in their respective fields and communities.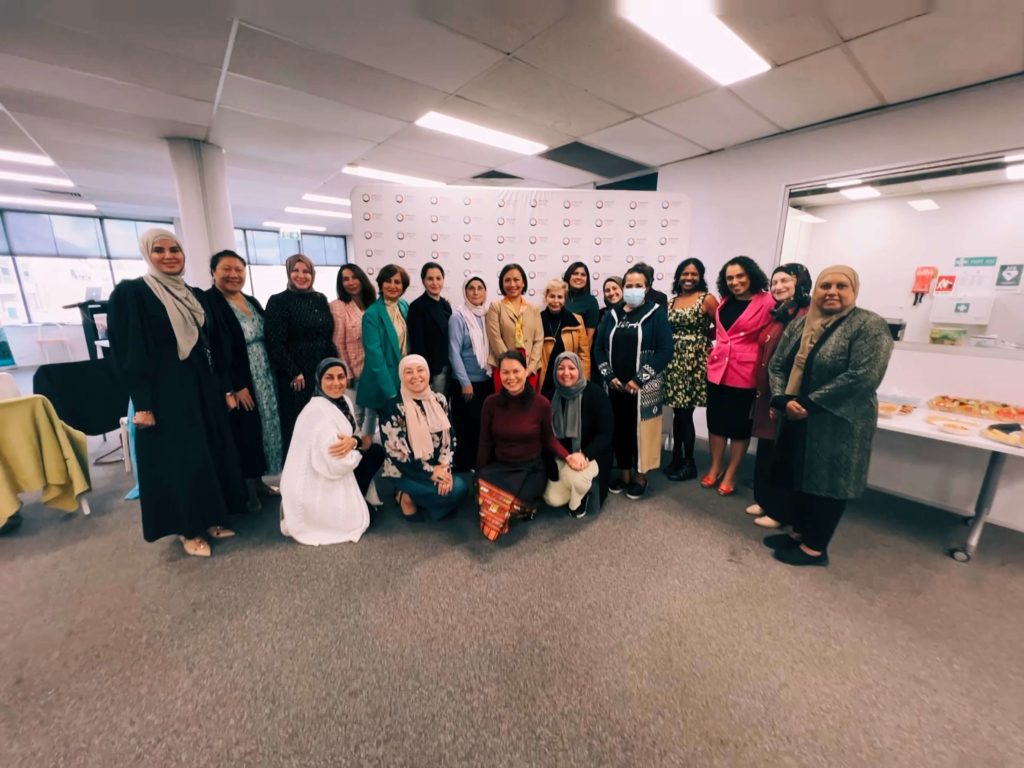 The CALD Women in Leadership training session was elevated by the invaluable contributions of Nadia Bouchti, the Program lead. Nadia's exceptional leadership skills and meticulous planning played a pivotal role in the seamless execution of the event. Her expertise in program coordination ensured that the training session was informative and empowering for all participants. The engagement of the women shows her deep connection to the community and the respect and trust the participants hold. We deeply appreciate Nadia for her unwavering dedication and commitment to empowering CALD women in leadership roles. Her outstanding contributions have undoubtedly contributed to the success and impact of the program, leaving a lasting impression on all those involved.