PeerLink Community Connectors Admon and Lina and team Coordinator Michelle recently got together at the end of 2020 to reflect on Western Sydney MRC's PeerLink program. PeerLink started in August this year (2020) and was designed to address the needs and challenges of those concerned about their mental health and/or disability. "Our objective was to assist participants in socialising and coming together, making friends, increasing referral pathways but most importantly making connections, a place to listen, sharing stories and experiences," says Michelle. The development of this program was gained from insight from the Circles of Sustainability report in 2017 undertaken in partnership with by WSU.
Through a co-design process with the community, we have successfully established one PeerLink group for women and a second PeerLink group for men launches in early 2021.
Through the first co-design process, participants identified areas of interest and activities they wanted to focus on, ensuring that the sessions would be relevant and meeting their needs. The co-design component was a fundamental body of work to ensure the community designed a program based on their need, from the model to the topics. "We liaised with consultant Caroline Dimond who really understood what we wanted to achieve and the importance of the process," said Michelle.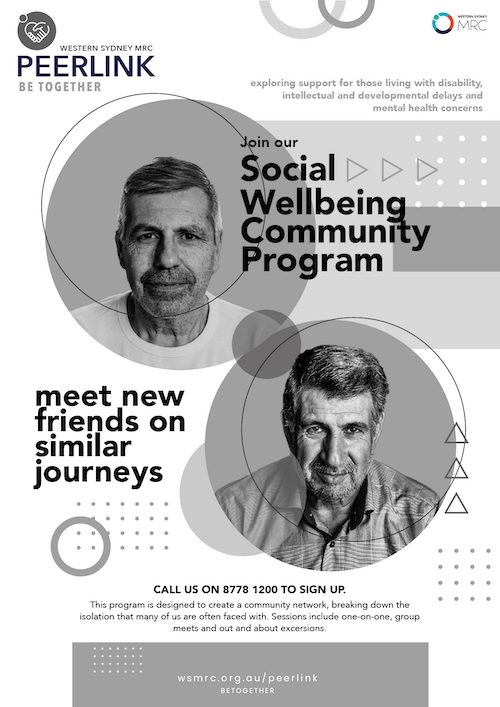 Our team dynamics, experience have a crucial role in building and growing the PeerLink programs. Our community connectors speak Arabic, allowing the participants to open up in the language they feel most comfortable. The relationship is unique, somewhat similar to a caseworker, but overlapped with a sense of peer connection providing a wonderful dynamic within the group.
Michelle joined us from a for-profit organisation, whilst Admon is from the community, and Lina from a mix of both. Michelle highlighted the difference in values, process, interactions and challenges with for-profit organisations, "MRC clients are at a different stage of their settlement journey than I have experienced. So many clients are impacted by severe trauma and the level of support they require is very dissimilar… I have learnt a lot in just three months."
Admon arrived in Australia 22 year ago and has volunteered at the MRC for just over three years, providing translation support, zoom sessions, volunteering with people in nursing homes and information and referral front desk support. He is passionate about helping everyone. He believes in serving the community, it brings him joy and fulfilment to his life, and he uses his connection to God to help guide his strong-willed nature. He is an embodiment of the work and support services that the MRC provide, and over the years he has built his capacity to deliver multiple layers of community support.
Michelle talks of the connection that Lina has made with some of the participants. "The level of trust that has been established has allowed PeerLink women to share sensitive information free from judgement and in a safe place. Through a group based connection and conversation – we have created a space for trust and sharing alongside specialised support and assistance to other services. Lina has been at the MRC for 3-months and recently finished the first round of the women's Peerlink sessions. Lina brings the professional experience of over-the-phone crisis support alongside her lived experience of migration and passion for community. "We were able to see a range of mental health challenges and barriers to moving forward in life including PTSD, PND, depression," says Lina. "After the 10 weeks, the women have made such progress, they have shared, they have laughed and cried. The connection and bond have been so strong, with one another and me."
Admon is looking forward to starting the men's group next year. Through the co-design process, the men have already built a friendship and a trusted place to share in just three weeks. He is confident that the men will grow and evolve
The MRC has been running several group programs where multiple family members attend various services. We have been able to provide multi-layered support for a family that has identified different specialist requirements. The team has worked together to support each family member whilst not crossing the trust barriers with each client.
"Boundaries for our staff play a fundamental role in remaining professional. Sometimes the line can be blurred, and we work with the team to ensure they have regular check-ins with management. Our community connectors aren't here to solve but to guide and support, and often they are called upon at all hours as a support person," says Michelle.
When asked about Admon strengths, Michelle begins to gush. He is a calm and excellent listener. Many of the individuals signed up for the program wouldn't be here if it weren't for Admon. The community trust him, and we know that he is the right person to take them to the next phase of their journey. When asked about Michelle's supporting role, Admon reminds us this is his first paid role. He highlights Michelle's support with creating boundaries, administration, safety… to name but a few. He is happy that she walks beside him for the delivery of this programme.
"Our aim was to build their capacity and work on their strength. The women have shared they are stronger through this program" says Lina. Her voice wavers as she relives their end of year event held at the end of December. They sang and danced. The laughter could be heard throughout the MRC. We also provided beautiful hampers for the women, made possible by Liverpool City Council, the women were so very thankful.
When asked where they hope what the program will bring for 2021, they would both like to meet the clients' needs. "I would like to see and hear the clients feel mentally well, that they are given hope and a sense of belonging and home. I hope we can provide them with information about a range of other services specifically for the men's group. We believe there are barriers to men accessing or know that the supports exist. "When you influence one person within the CALD communities, you help a community as a whole," says Admon. "Many individuals are so connected with one another, that when one learns, they take that home, to friends, family, visitors… they tell stories and share experiences… the students become the teachers. The information will benefit the whole community."
We also want to see growth. We have a waiting list for the female groups and hope to increase the number of sessions available. Michelle wants to ensure early intervention is our priority.
"We are staying connected through WhatsApp over the break, and we know that there is so much more that we want to achieve. A 10-week term is a great start, covering counselling, services, referred, casework alongside excursions, train rides, library and a city visit," says Lina.
Admon is keen to get started for 2021, he doesn't know where the road will take him, but he is ready and packed for the journey.
We would like to thank the funding body. "It's maybe luck," Michelle says. "The fact we have been able to provide this support during a year that has amplified pre-existing mental health issues. Our entire team acknowledge and welcome the layered connections we have established underneath the ILC Peerlink program, and we see it's potential to grow."
If you would like to join PeerLink contact the MRC via email on admon@wsmrc.org.au or michelle@wsmrc.org.au.