The Liverpool MRC in partnership with Liverpool City Council have hosted a series of forums to improve service delivery coordination for newly arrived refugees settling in the Liverpool LGA.
This Local Refugee Action Plan has been developed in collaboration with key stakeholders working with refugees in the Liverpool area. The plan has been developed to help coordinate refugee service delivery in the Liverpool LGA, monitor progress against key gaps and needs, and inform organisational planning.
Who is Liverpool?
Liverpool is the face of modern multicultural Australia. We have the richness of Aboriginal heritage, cultural diversity and language. We are home to one of the highest concentrations of Australia's recent arrivals. The cultural diversity of our city creates opportunities to increase the community's capacity, develop community leadership, and become active members of society.
In Liverpool, we aim to reach out to those who may feel they live 'in' a community but are not part 'of' it. We seek to engage and give a voice to those who may feel isolated or marginalised, and encourage all to participate in all aspects of civil society.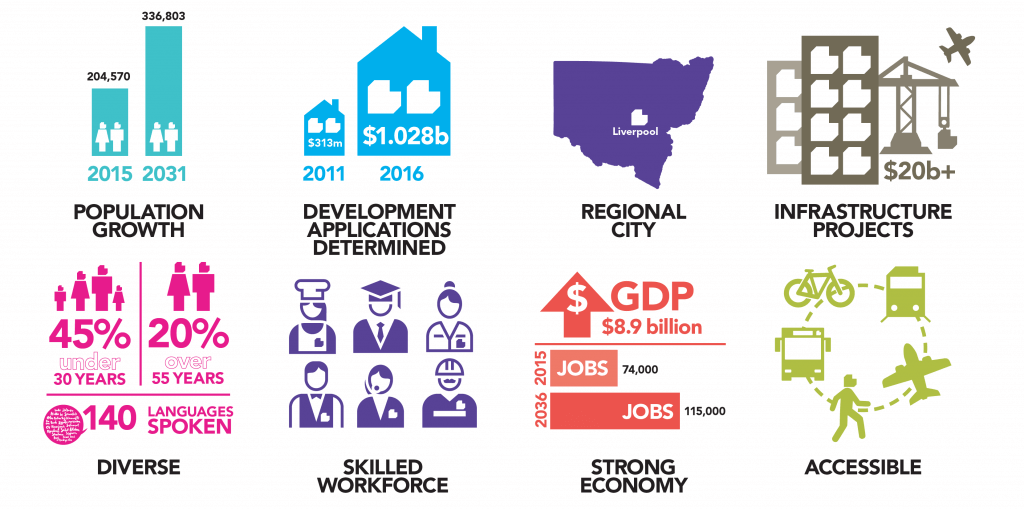 Whole of community approach
A whole of community approach is required, with the aim to harness goodwill that exists across all sectors of the community to improve settlement outcomes for refugees. There is also a need to harness civil society through individual supportive measures.
Examples below:
Individuals – Over 750 offers of assistance have been registered on the NSW Government 'I Can Help' website by individuals to assist refugees.
Education sector – All NSW Universities have committed to additional initiatives to support refugee students (including scholarships).
Syrian and Iraqi communities – Capturing, promoting, and supporting the work that communities already do.
Business Sector – Premier's Roundtable elicited strong support from leading employers to provide training, to mentoring, micro-financing and support for entrepreneurs and job pathways.
Clubs NSW – MOU to provide employment and work experience opportunities for refugees.
NSW Public Sector – A commitment to provide at least 100 jobs.
The Liverpool MRC and Liverpool City Council thank the participants who were part of the sector briefing sessions to guide the development for the Localised Action Plan and contribute to a shared response for Liverpool.