COVID-19 Vaccination rollout begins in NSW by early March, with a complete rollout expected through 2021.
Vaccination will be made available for all citizens, permanent residents, and temporary visa holders except for tourists. Whilst vaccination is not compulsory; the Government are rolling out a national campaign, to inform all Australians about the Vaccine process and clear pathways to find additional information. Resources and assets have been made available in multiple languages, focusing on ensuring accessible in-language information and guidance is made available to CALD communities.
Priority first groups include frontline at-risk health care workers, including staff in GP respiratory clinics and COVID-19 testing facilities, ambulance staff, paramedics, ICU and emergency department staff, and clinical and ancillary support staff:
quarantine and border workers
residential aged and disability care residents
residential aged care and disability care workers.
Western Sydney MRC has been working with SWSLHD CALD COVID-19 Advisory Group to inform and support the decisions made. We welcome the arrival of a variety of resources for CALD communities, given in unison with mainstream communications and are supporting the rollout with minority community groups.
Working with Dr Mitchell Smith from NSW Refugee Health, local council representatives, the health literacy team from SWSLHD and a dedicated group of key stakeholders and community representatives, the entire team have shown an unwavering commitment to ensure improvements, resources and supports are made available and accessible to those that need it most.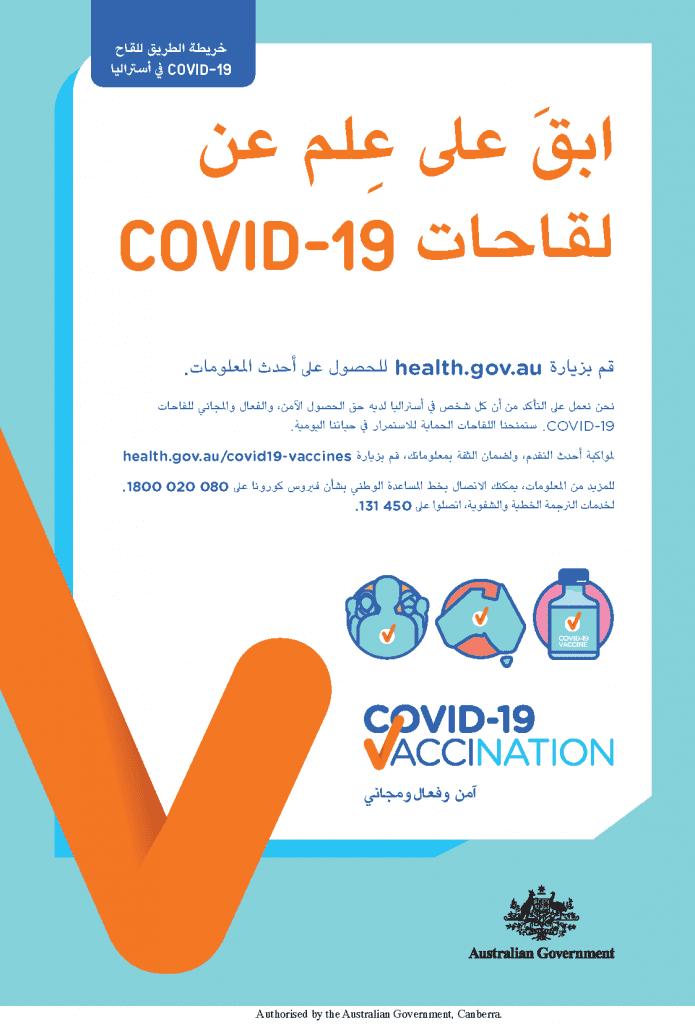 We encourage everyone to explore the resources and information made available further and promote trusted sources of information.
Information has been made available about Australia's COVID-19 Vaccine National Roll-out. The Strategy tells us:
who will get the vaccine first
where the vaccine doses will be available
how vaccines will be provided to the first priority groups.
For a range of translated resources or the latest information visit health.gov.au or find out more about the vaccine rollout strategy at
To keep up to date with the latest progress, and to ensure your information is reliable, visit health.gov.au/covid19-vaccines
Further information for COVID-19 vaccine Q&A is accessible at