Western Sydney MRC was once again honoured to receive The Hon. Ray Williams MP, and received a cheque for $20,000 to support the launch of a podcast and an additional $5,000 from Melanie Gibbons MP to assist with the delivery of youth activities including Rock and Water and the school holiday camp.
Western Sydney MRC was once again honoured to receive The Hon. Ray Williams MP – Minister for Multiculturalism on Tuesday for his second visit to our head office in Moore Street, Liverpool.

The Hon. Ray Williams MP is familiar with our communities and has shown specific interest in hearing about our youth programs and services. The Minister had a three-part visit which included a youth consultation, a youth program overview and a community consult.
---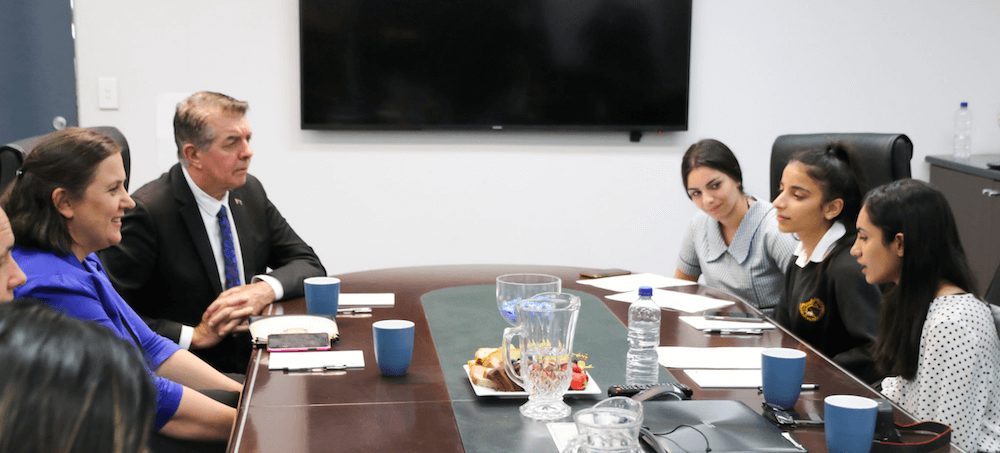 As an introduction, the Minister was given the opportunity to talk to three amazing young women, Evana and Hend – Year 9 students and Rooan who is studying Law at UTS. They shared their concerns, what they hope to achieve and the impact that they want to have in Australian society.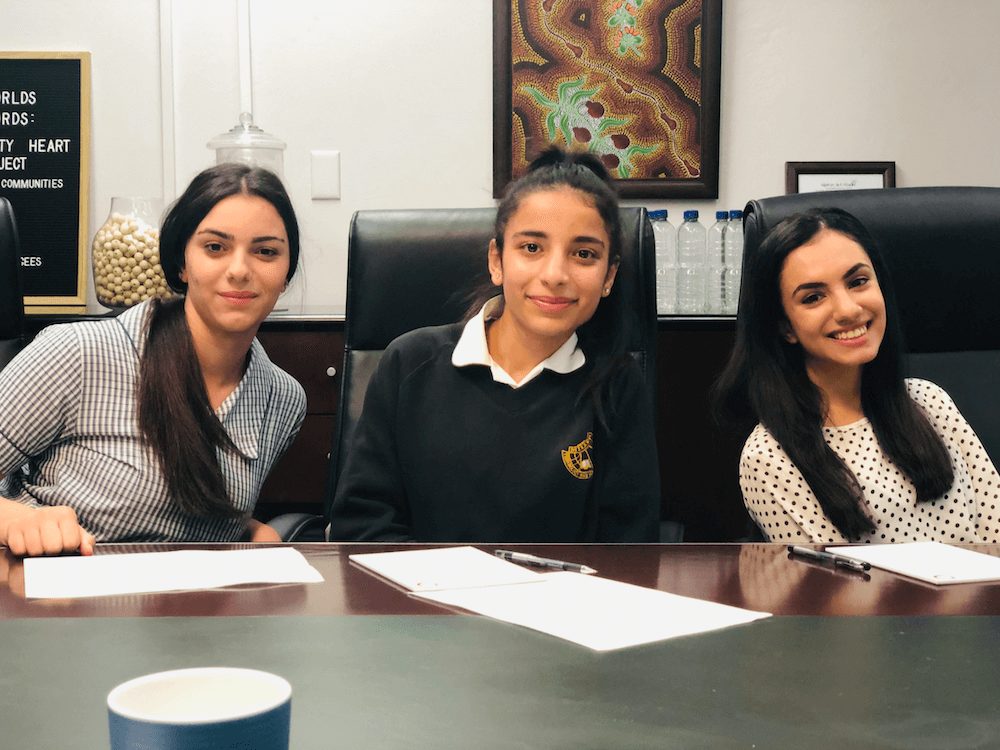 "I speak Assyrian, Arabic and English… and am looking for a job… I want to become a Police Officer…"

Evana, year 9 student
Hende spoke of her volunteer experiences with Western Sydney MRC and her connection to Youth Worker Darren, and his encouragement to get involved.
"We understand how important it is for our young people to have a voice and be heard by those that can bring about positive change, not only for them but for their families and communities. Access straight to the top is welcomed and they are certainly proud to be invited to such a meeting."

Darren Chan – Western Sydney MRC Youth Worker.
What stood out to us all is that these three young women have clear goals, dreams and aspirations. They know they want to make an impact. Melanie Gibbons MP expressed interest in the further exploration of our youth group, and facilitation is going to be explored.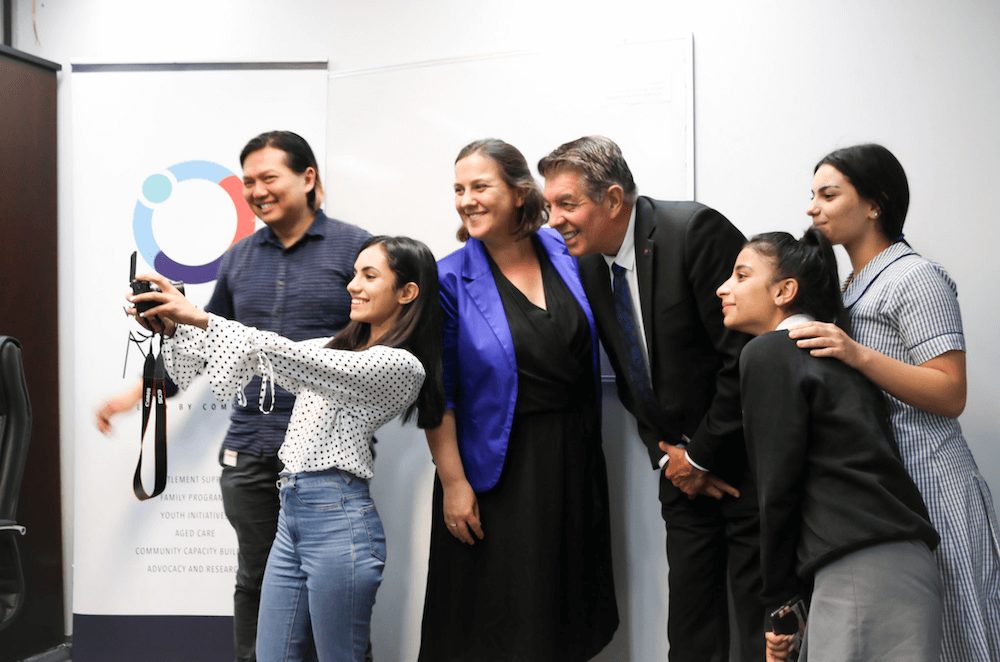 The Minister commended Rooan for her work and engagement within the community "… what you have done through your achievements is quite remarkable… you are an incredible role model." He encouraged Rooan to follow her passion and continue advocacy for her community. "We are the great beneficiaries of you coming here [to Australia]… it's healthy for society to understand your journey…and we want to hear those stories… we will take
those [stories], and stand up in parliament and blend into legislation and debates."

The Minister was also given the opportunity to learn about RYPMP* – Refugee Youth Peer Mentor Program and met several mentor and mentee participants as well as a member of the youth advisory committee to talk about the program, its benefits, their achievements and experiences.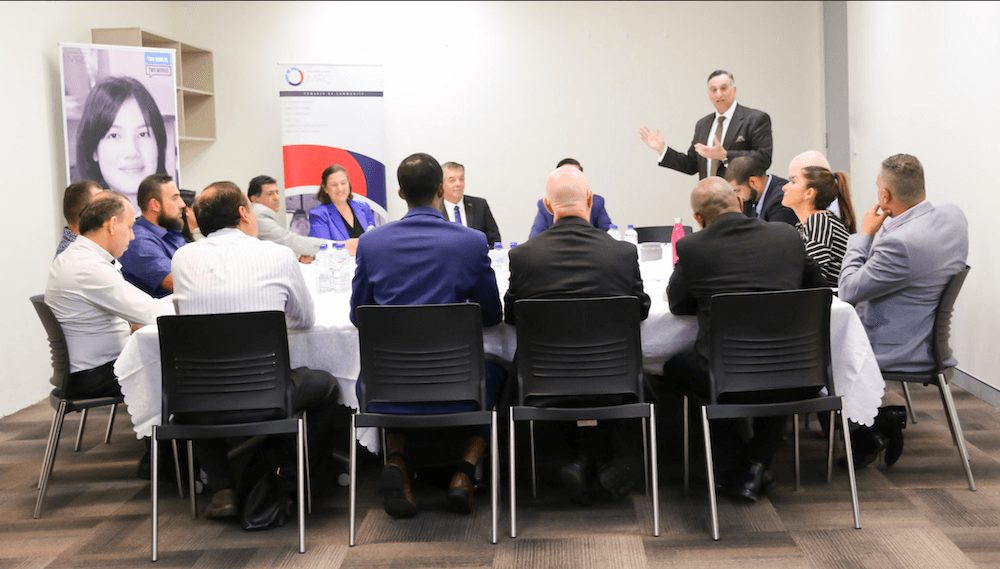 Kuwthar, Willabel, Roy and Ciemat all spoke of the benefits to both mentor and mentee, of shared interests, learning new things, understanding each other's challenges and passions. The impact for mentees having someone to turn to as a guide was extremely valuable, the benefits of helping build an individuals' capacity and independence.

The Minister spoke of the importance of storytelling and a sharing of journeys… and Western Sydney MRC received a cheque for $20,000 to support the launch of a podcast.

Western Sydney MRC is planning to launch a new podcast called 'SameSameDifferent – This is Western Sydney'. The series will include interviews exploring the lives of community, an eclectic mix of cultures and communities celebrating Western Sydney's Diversity. The podcast will aim to highlight the beauty, richness and uniqueness of Western Sydney celebrate the triumphs and strengths and explore challenges and struggles. Western Sydney
MRC was also given an additional $5,000 supported by Melanie Gibbons MP contributing to our Youth Summit.

As a final session, the Minister met with Community Leaders facilitated by Western Sydney MRC CEO Kamalle Dabboussy. A fruitful discussion about youth needs and aspirations began, speaking to the value of the programs and services delivered by the MRC helping achieve many community goals.
The opportunity for a deep dive into youth-related issues was much appreciated by the participants – including 13 members covering 8 organisations. It was little surprise that the attendees echoed one another around highlighted issues.

Program funded by Department of Family and Children Services, delivered in collaboration with CORE Community Services, Illawarra Multicultural Services and Multicultural Council of Wagga Wagga.

MEDIA
For further information please contact:
Rachel Haywood, Marketing Manager
0456222080
rachel@wsmrc.org.au