This year, Western Sydney MRC held it's first Harmony Day Bake Off
On 21st March members of the Western Sydney Community eagerly arrived at our Liverpool office, ready to enter their specialty dish into first ever Bake Off. The contestants came from all over the world, bringing Samoan, Iraqi, East Timorese, Polish, Aboriginal, Sudanese, Syrian, Italian, Maltese, Vietnamese and Fijian (to name a few) flavours to the judges' table.
The judging panel featured three special guests: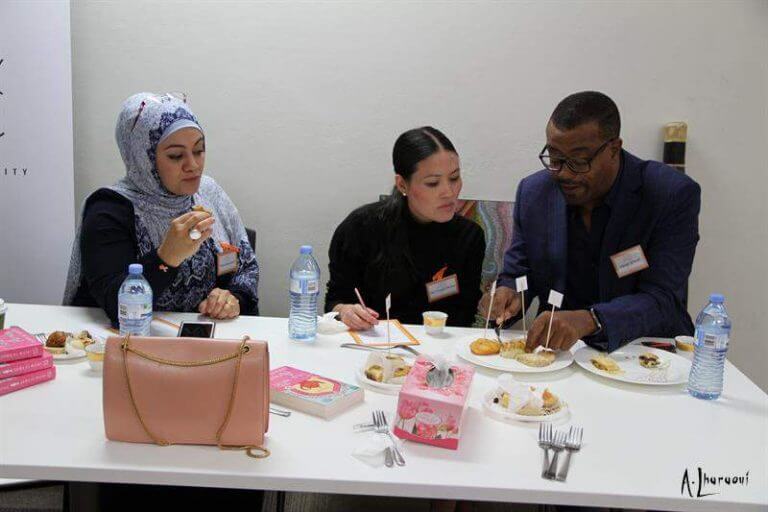 Diem Fuggersberger escaped from war-torn Vietnam in 1980 on a wooden fishing boat with little more than the clothes on her back. Throughout her journey, she and her family were tormented by pirates and battled severe weather conditions that caused the boat to almost capsize. Today, Diem is married with two children and is the founder of Berger Ingredients and Coco & Lucas' Kitchen, creating healthy, pre-packaged food for children. She epitomises resilience and strength and in recognition of this, was awarded the Optus Businesswoman of the Year in 2017.
Arwa Abousamra's Palestinian family migrated to Australia in 1985. She is a mother of three, Arabic translator in the medical and legal sectors, volunteer, humanitarian, motivational speaker, passionate cook and (if she wasn't busy enough!) author of Tea with Arwa – a memoir, in which she shares the story of her life, through food. Arwa's story is particularly special to us at Western Sydney MRC, as her mother was once a client of ours who found her calling as a floristry student, and then teacher through our services. Arwa's mother went on to teach other migrant women through TAFE for twenty years, giving back to the community, a trait that her daughter has carried on.
Hassan M'Souli is a Moroccan chef who grew up in Cassablanca. His family settled in Australia in 1985. Since then, he has gone on to have two children, open restaurants in Sydney and publish his recipes in cookbooks. Hassan's approach to food reflects a fusion between traditional Moroccan flavours with a contemporary Australian twist, bridging the gap between the two cultures through food.
"Finding a place to belong to in a new country is very hard, whether you speak the language or not… that journey, we all share. But there is an end, there is a light at the end, it just takes time."

Arwa Abousamra
Harmony Day means a day to bring people together… it is my duty to be useful to the community."

Diem Fuggersberger
I'm glad to be one of the judges… it is important to be confident and to be proud of your background and give your speciality to this country…"

Hassan M'Souli
The three winners also represented cultures from across the globe:
Maria Valdes, Chile
Mona Dawood, Egypt
Meryem Lamhamdi, Morocco
With over fifty attendees, the event could not have been as incredible as it was without the amazing community support we received. We are truly thankful to all our judges, Liverpool Coles, Clr Nathan Hagarty and Dr Eddie Jackson From Liverpool City Council, Moroccan Hammam, Zara by Zara, Zak Lharoui from the Moroccan Sydney Association and SBS Arabic24 for their support.