Employment Success through COVID-19
Through the COVID-19 lockdown restrictions, many people faced uncertainty and clarity on the future that lay ahead.  
At Western Sydney MRC our MiWork employment program continued to operate and facilitate training online to support those who were registered in the program. The MiWork employment program aims to assist individuals in identifying their skills and interests and begin career pathways towards success. The program is designed to create strategies that generate employment opportunities. This program will provide career and further education advice for the betterment of your future.
Meet Fida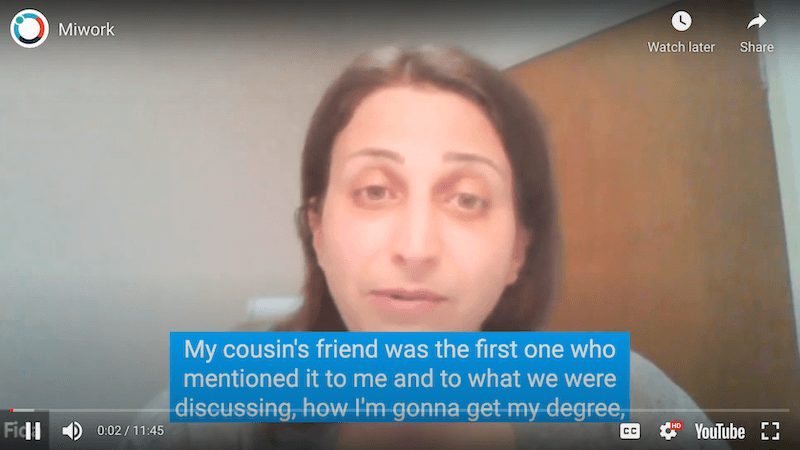 After spending weeks with a profile on seek.com, Fida knew she needed additional assistance with gaining employment in Australia.
Since her arrival in November 2020, she had spent the time settling her 4 children into school and setting up her home. Fida decided to look at her employment opportunities in Australia after focusing on settling her children to new life in Australia. Unfortunately, when Fida was ready to focus on her own aspirations, Covid-19 swept the nation with hard lockdowns and restrictions. Despite this situation, she was determined to gain employment and equip herself with the tools she needed to make that a reality.
While in lockdown, the MiWork employment program continued to operate. Syed delivered weekly zoom sessions, alongside one–on–one coaching. This allowed Fida to continue building her capacity in the employment sector while lockdown took place.  
While working together, Syed and Fida worked on a plan to find employment in the retail pharmacy industry. Over 6 weeks, our pathways officer delivered sessions highlighting interview skills, writing a successful resume and cover letter, and other ways to find work aside from the online recruitment platforms available.
Once this process was completed, Fida hit the pavement with confidence. She approached her local pharmacy retail stores with her resume and cover letter in tow. In just a few weeks Fida had an interview and was given a trial period to commence her employment. Now Fida has a full-time job and is relieved that she can finally start focusing on attaining accreditation as a pharmacist in Australia.
Fida's top tips on employment –
Don't lose sight or focus on your goals. 
Make sure you show up – the MiWork employment program was a big part of my success. 
Even when you are surrounded by uncertainty, keep your faith and keep trying.  
Reach out to your social networks for support and direction – my cousin introduced me to the program initially. 
'When I got the job, my entire family was celebrating for me, it was such a good feeling! I was concerned about finding work during such a hard time when everyone was losing hope, but working with Syed and having him as a sounding board kept me going.'
If you would like to grow your job searching and employment skills, please contact Syed via email at syed@wsmrc.org.au for application requirements and approval.