Continuous political engagement for our diverse and multicultural communities.
In keeping with our mission to empower, inform and connect the diverse communities in Liverpool and surrounding areas, Western Sydney MRC held its 6th Meet the Candidates' Forum last night (May 4 2022) in the lead up to the Federal Election later this month. "We have organised 'Meet the Candidates' event for the last 20 years and have led continuous political engagement for our diverse and multicultural communities," said Western Sydney MRC CEO, Kamalle Dabboussy.
"This event is part of a 'Civic Spotlight Initiative' that Western Sydney MRC has been spearheading over the last few months. Undertaking four community consultations across 3 LGAs and a youth consult, the Western Sydney MRC identified localised issues and is distilling these into priorities within a position paper launching next week" said Western Sydney MRC Policy Officer Archana Voola.
"The Civic Spotlight is the culmination of months of work by the MRC, working with locals and partner organisations to strengthen local participation in the democratic process." Western Sydney MRC Chair Councillor Nathan Hagarty said.
"It's vital that our communities make sure their voices are heard and their votes counted. Local candidates and parties need to understand the issues that matter most to locals," said Mr Hagarty.
Attended by 11 candidates and six political parties were represented across the three electorates of Fowler, Hughes & Werriwa and constituent questions covered many issues, including affordable housing, racism, employment, connection to CALD communities, and diversity representation, among others.
(In order of introduction at the event)
Jenny Ware – Liberal
Anne Stanley – Labour
Sam Kayal – Liberal
Apurva Shukla – Greens
Victor Tey – Liberal Democrats
Tony Nikolic – United Australia Party
Kristina Keneally – Labour
Dai Le – Independent
Lela Panich – United Australia Party
Avery Howard – Greens
Peter Runge – Liberal Democrats
In addition, multiple Councillors from Fairfield and Liverpool joined the event alongside Senator Hollie Hughes and Liverpool City Council Mayor Ned Mannoun. SBS Radio, Assyrian Community Radio, Muslim Community Radio, Mandaean Media Network, ABC and Allora Media were on hand to interview candidates throughout the event. MC and moderator Julia Feder, Deputy Editor of ABC News, floored the questions.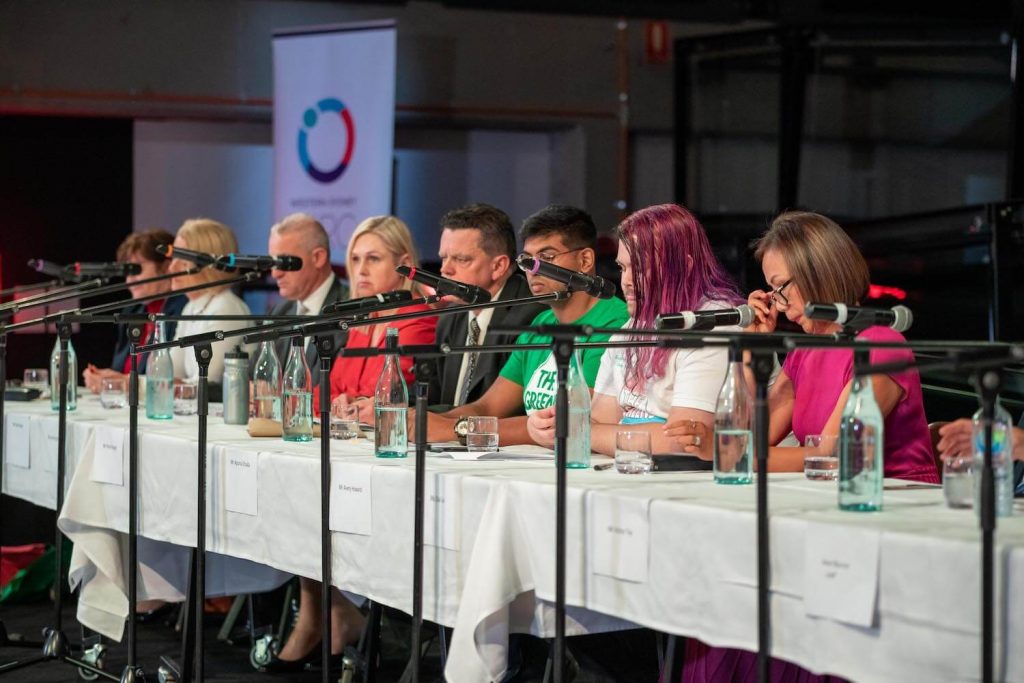 Casula Powerhouse Arts Centre was the perfect space for the event. Attendees represented many community groups, including African, Sudanese, Iraqi, Italian, Syrian, Iranian, Indian, Vietnamese, Chaldean Catholic, Assyrian Orthodox and Mandaean and over 40 community leaders attended. With over 900 people reached through our Live-stream on Facebook, a recording of the event is here: https://fb.watch/cORB5afrjC/.
The event concluded with the launch of the Community Civic Participation Toolkit, available at https://wsmrc.org.au/civic-spotlight/, co-designed by Western Sydney MRC and FECCA, Kamalle Dabboussy was joined by Dr Janecke Wille, Senior Research and Policy Officer from FECCA, to outline the toolkits' vision and development.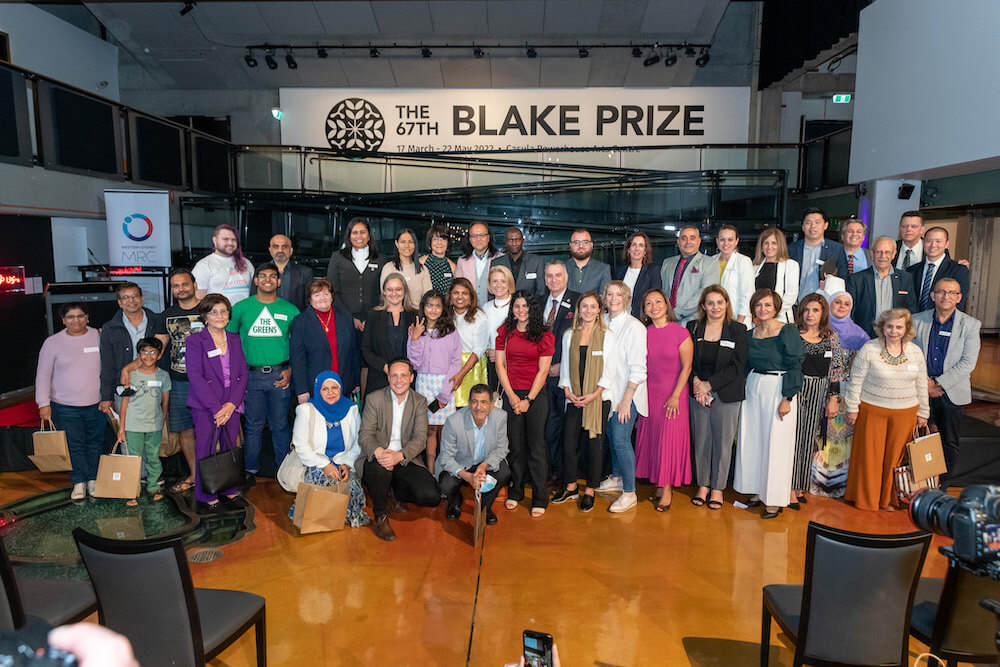 It guides newly arrived refugee and migrant groups to understand civic participation processes such as setting up an organisation, lobbying politicians, gaining support and fundraising, community leadership and advocacy. It provides information on institutional processes such as the levels of government in Australia, the democratic system of government, the house of representative and references to translated materials.
Most uniquely, this toolkit provides a snapshot of some of the local government areas of Western Sydney to highlight the unique strengths and challenges of the local CALD communities. Western Sydney MRC is currently seeking funding to translate this toolkit.
Meet the candidate's forum is a fantastic example of Australian democracy. Western Sydney MRC would like to thank all the candidates and community members who attended and watched online. Please remember to cast your vote on May 21 2022.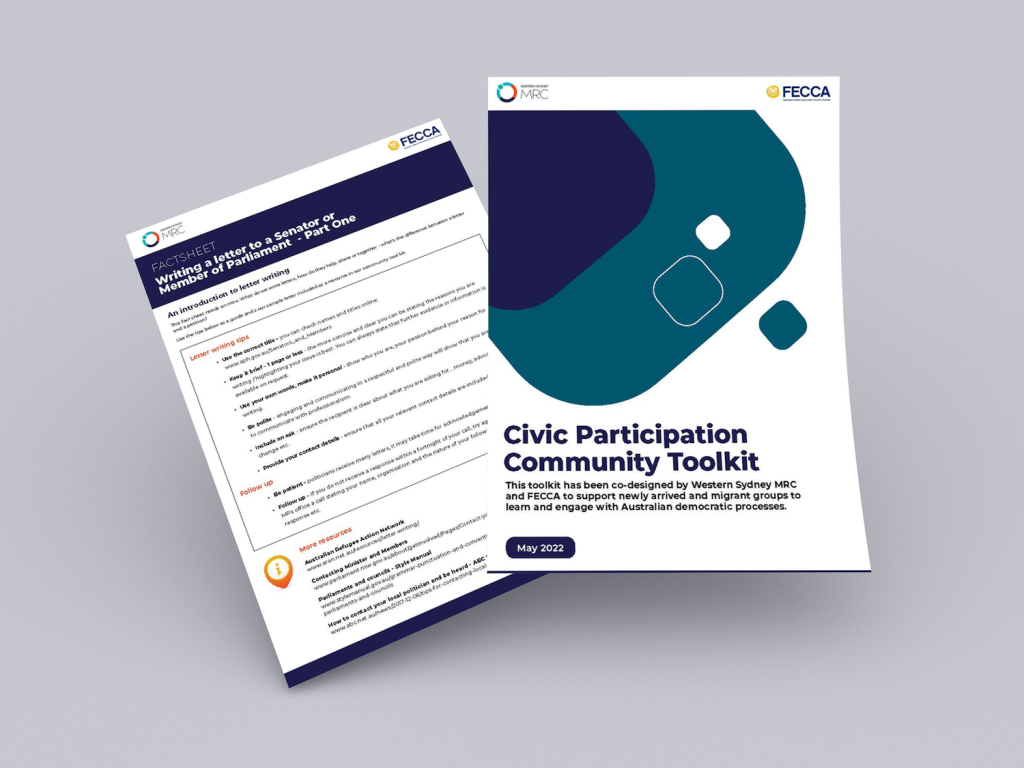 To find out more on how to vote, visit: https://www.aec.gov.au/election/campaign-hub/cldc.htm